Important note
I'll put this right at the top cause it's so important. Do not even think about asking me for the offending images, because I will not send them to you. Got it? Good.
Introduction
There were some rumors going around that compelled me to document the communication between Sega and rat.org. It's really not that juicy, which is what I wanted to show by this.
---
November 2, 1995
First, I got a phone call. It was from Anne Jordan. She told me to immediately take down the pornographic sonic material, and get permission if I wanted to keep the other material. I told her I would take down the offending graphics that evening, which I did. I also asked her to follow up with an offical letter or email, so I could have this on file. She was concerned that I would take whatever they gave me and use it to make Sega look like a bully. After much teeth pulling, she finally agreed to email me.
---
November 3, 1995
I got the email I asked for.
Note her email address is really anne.jordan@sonic.segaoa.com. Her mail software must have been configured wrong, so I get the impression she is not a seasoned net surfer. :-)
Here it the message:


From: Ann Jordan <ann.jordan@sonic.segaoa.com>
To: rat@rat.org

This is to confirm that you will remove all of the offending Sonic (and related characters) material from your web site by Saturday, November 4. You are also using other Sega copyrighted material and trademarks without permission and must either immediately obtain permission or remove this material as well. You can contact Sega's marketing department to see if they are willing to grant permission for this type of use.

Please let me know if you have any questions.

After finding her real email address, I replied with this message:

From: Ratman <rat@mv.mv.com>
To: anne.jordan@sonic.segaoa.com

I have removed the "offending" pictures a few hours ago. You may go and look now if you'd like. I intend on getting permission of the other (non-perverted) pics, so I am leaving them for now.

Please tell me who to contact to get permission on the other copyrighted material. I would like to do this. It would be a shame to take it down. I mean it's only helping you guys. sheesh.. But if I don't get permission, I'll remove them. I don't want to have a bad relationship with you guys unnecessarily.

She never replied. So I just left it at that and did not do any research into who I needed to contact.
---
November 21, 1995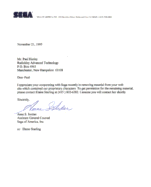 Then they followed up with an official letter.
Click on the letter for a bigger picture of the letter, or you can just read the text of the letter below.
Note: Ratically Advanced Technologies is in Internic's domain database entry for rat.org. I have no idea where they got Radickley.


November 21, 1995

Mr. Paul Hurley
Radickley Advanced Technology
P.O. Box 4963
Manchester, New Hampshire 03108

Dear Paul:

I appreciate your cooperating with Sega recently in removing material from your web site which contained proprietary characters. To get permission for the remaining material, please contact Elaine Starling at (415) 802-6382. I assume you will contact her shortly.

Sincerely,

Anne S. Jordan
Assistant General Counsel
Sega of America, Inc.

cc: Elaine Starling
---
December 4, 1995
I contacted Elaine Starling, and she will fax out some paperwork for me to sign tomorrow. She told me that I can have anything that doesn't show the characters in a bad way. I'll assume they are going to just let me use my own judgement. I'm pretty happy with the way they are dealing with this.
---
Present
They never sent me that fax. They probably never will, but I don't care.